Refrigerated vans : Long term rental service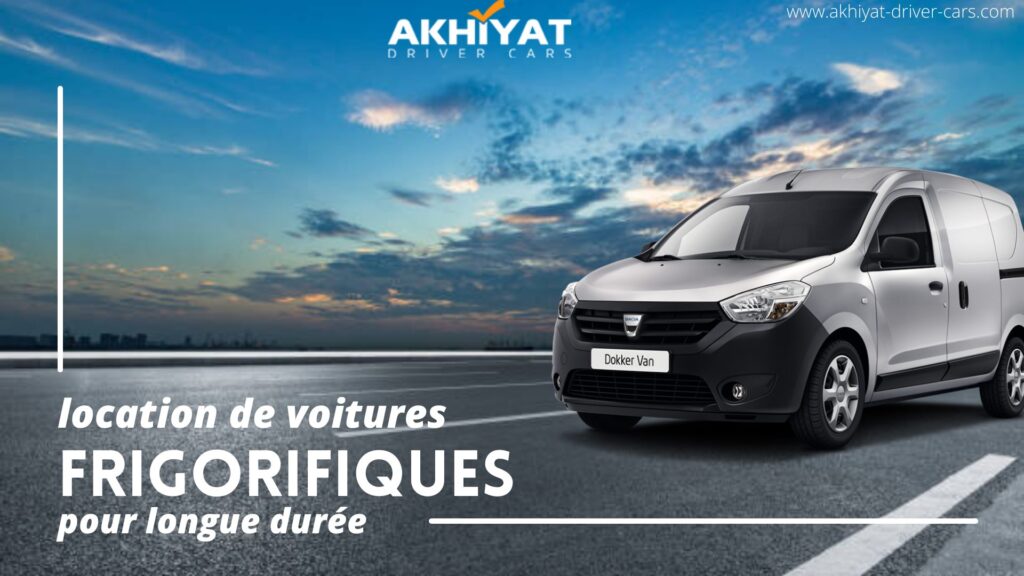 Aissam AKHIYAT

PubliéMarch 18, 2022

Rent car
Akhiyat Driver Cars is pleased to announce the introduction of its new long term refrigerated vans rental service in its range of offers.
Are you a restaurant owner, a caterer, or a transporter of pharmaceutical and chemical products? Are you a supplier of perishable foodstuffs or a transporter of any other type of fresh products? Akhiyat Driver Cars offers you long term rental contracts to meet your needs. We will provide you with the necessary support and assistance to ensure the success of your business.
Akhiyat Driver Cars' refrigerated van rental service offer covers the whole national territory. This advantage will ensure not only the proximity you need in the management of your operations but also a very high quality service and follow-up.
Who can rent a refrigerated vans?
The refrigerated vans offered by Akhiyat Driver Cars are useful for the transportation of perishable products. These products include meat, frozen food, dairy, milk, fruits and vegetables. These vans play an essential role in the cold chain especially in the transportation of highly sensitive pharmaceutical and chemical products.
Refrigerated vans : how does it work?
There are two types of refrigerated vehicles: the isothermal box and the refrigerated unit. The objective of these two systems is to maintain the desired temperature inside the compartment, no matter what the ambient temperature outside might be.
In both cases, the temperature can be set between -20°C and +12°C and the system works in the same way. Once the load is ideally distributed and the thermostat is set to the desired temperature, the process begins. First, the cool air is propelled through the upper part of the load towards the rear of the refrigerated van. As the cool air travels forward through the compartment, it absorbs heat by spreading out from under, around and through the loaded products. Finally, the air circulating in the compartment is no longer renewed, the system absorbs the heat from the air and rejects it outside.
It should be noted that the cells are plasticized in order to be isothermal and retain the internal temperature of your compartment. The latter can produce positive and/or negative cold and depending on the model of the vehicle, it can work on the road or on the mains. In the first case, it uses the energy of the engine while driving to operate. As for the second, you can plug it into an electrical outlet when the engine is turned off. It is important to note that refrigerated vehicles are not cold rooms. They are designed to ensure the maintenance of the cold chain for the transport of fresh and frozen goods.
Refrigerated vans rental: What are the key steps in the process?
Through its comprehensive offer, Akhiyat Driver Cars brings its expertise and know-how to its customers by offering them high value-added services. It guarantees an infallible and active assistance throughout the year 24/7. We provide administrative support in order to fluidify and facilitate the administrative processes that will be related to the long-term rental of your next refrigerated vans.
After studying your needs, we will help you determine your ideal choice. Akhiyat Driver Cars will take over and handle the acquisition of your refrigerated vans. This acquisition will be done within the framework of your rental contract.
Other services offered by Akhiyat Driver Cars :
Transfer by minibus : airport and inter-city :
We offer this service to people who wish to organize activities and excursions in groups. We put at your disposal mini-buses to ensure your movements in the city, airport or inter-city. Akhiyat Driver Cars provides you with professional, courteous and reliable drivers. All our vehicles are equipped, comfortable and air-conditioned.
Long term car rental :
We also offer you a long term car rental. This last one exceeds three months and will bring you many advantages. Our customers have noticed more flexibility for serene abd stress-free journeys between several cities of the kingdom.
Car rental in Casablanca :
As for our car rental service in Casablanca, we ensure the delivery of your vehicle at the airport Mohamed V of CASABLANCA or at the hotel on request. You will be able to benefit from our competitive prices for high level services to finally enjoy the many emblematic sites of the city.
Car rental in Marrakech :
If you are visiting Marrakech, Akhiyat Driver Cars also offers you its car rental service at Marrakech airport. You can pick up your car at the Marrakech-Menara airport or at the hotel if you wish. You will be able to discover the charming city with your family or friends while benefiting from our very high quality services at a very affordable price.
Car rental in Agadir :
Arriving in Agadir, Akhiyat Driver Cars offers you a very attractive and top-class service. You will be delivered at Agadir Al Massira Airport or at your hotel according to your request. We will offer you discount prices for impeccable services to allow you to enjoy the many natural landscapes of the region.
Car rental with driver :
As we remain faithful to our quality approach, we continue to distinguish ourselves by ensuring comfort to our customers. It is with this in mind that we have developed our car rental service with the collaboration of our drivers. They are professional and experienced and will offer you a very high level of service at affordable prices.
Our drivers are passionate, friendly and convivial people. They are able to communicate with you to meet your needs. They will accompany you on your airport transfers, business meetings or hotel service.
What type of license is required for a refrigerated vans rental?
Refrigerated vans do not require a special driving license. Anyone with a B driver's license can drive and operate them.
Need more information or want to make a reservation.
Contact us by phone on :
From Morocco 05 28 21 75 17
From abroad 00 212 5 28 21 75 17
By mail :
Send us your mail to the following address
4, Avenue Haj Lahbib, Cité Bahara Les Amicales,
Agadir, 80000, MOROCCO.