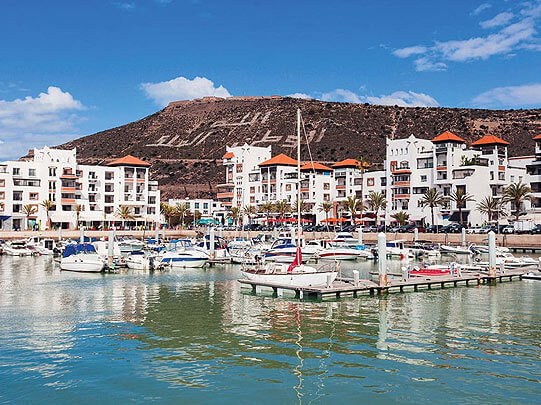 Car rental in Agadir: a wide range of vehicles
Car rental in Agadir Akhiyat Driver Cars offers a wide range of vehicles, from sedans to compact cars and 4×4 sports cars.
To each his need, to each his vehicle! Since everyone has their own needs and preferences, we offer a multiple choice of cars for rent: Dacia Logal, Volkswagen Polo, Skoda Fabia, Citroen C3 Shine, Ford Fiesta or Hyundai IX35, and many others. So feel free to have a look at our rental vehicles, whether it's for a few days or long term rental. Moreover, our offer is perfectly adapted to your request.
Additionally, with the lack of public transportation in Agadir, renting a car proves to be a MUST. It's the best way to move around the capital of the province of Agadir Ida-Outanane with no worries. You will spend a gadiri stay in all serenity!
Thanks to the proximity of the international airport Agadir-Al-Massira in the city center, we offer free car delivery and pick-up upon your arrival at the airport.
Affordable car rental in Agadir: Discover the region at your own pace
Have you decided to rent a cheap car in Agadir? Excellent choice! We provide a car reservation service in the Amazigh city at very advantageous prices, including additional services to make the experience complete.
With Akhiyat Driver Cars, you won't have to worry about anything during your next stay in Agadir. Agadir is a touristic city and considered as the ideal destination for your beach holidays, located in the Souss-Massa region in the south of Morocco.
So take full advantage of your rented vehicle during your stay in Agadir. Bordered by the Atlantic Ocean, Agadir is very famous for its aquatic sports, especially surfing and bodyboarding for the lovers of strong sensations. Renting a car in Agadir will allow thrill seekers to discover the best spots in the region: Anza, Banana Beach, Devil's Rock, Panorama, Anchor Point, La source, Tamri, or a little further in Imessouane, about 80 km from Agadir.
In addition, and not to limit you in your travels, car rental in Agadir allows you to discover the region and its riches. With family or friends, renting a car is always a good idea for your trips in town or for your roadtrips. So many things to discover: the Medina Polizzi, Souk El Had, Mohammed V Mosque, the Valley of Paradise, the Kasbah, and many destinations a few kilometers from the city.
Services included in our car booking offer in Agadir
In order to offer you a complete and optimal service, our car rental agency in Agadir Akhiyat Driver Cars offers, also, several extra services totally FREE that will surely make the difference:
Free delivery & recovery at the Al Massira Airport of Agadir, from your hotel and everywhere in the city;
24/7 roadside assistance service in case of breakdown or accident on the road. We make sure that you are taken care of as soon as possible;
Assistance N° : Aissam +212(0)661377106 / Abdelaziz +212(0)668698969
All-risk insurance: giving you the right to be protected in the event of an accident in which you are at fault;
Unlimited mileage: Take advantage of this service and don't worry about car journeys. You can drive without limit;
Free second driver; This is the second person who can drive the rented vehicle. This driver benefits from the same guarantees as the main driver as soon as he is declared in the contract. Minimum age 21 years old with a driving licence valid for more than 2 years.
Baby seat / booster: Have a free baby seat & booster for any rental vehicle of our range.
Discover also our other car rental offers :
Transfer by minibus: airport and downtown
A budget not to be exceeded? Need some information? Do not hesitate to contact us for any reservation or information.