5 souks to visit in Morocco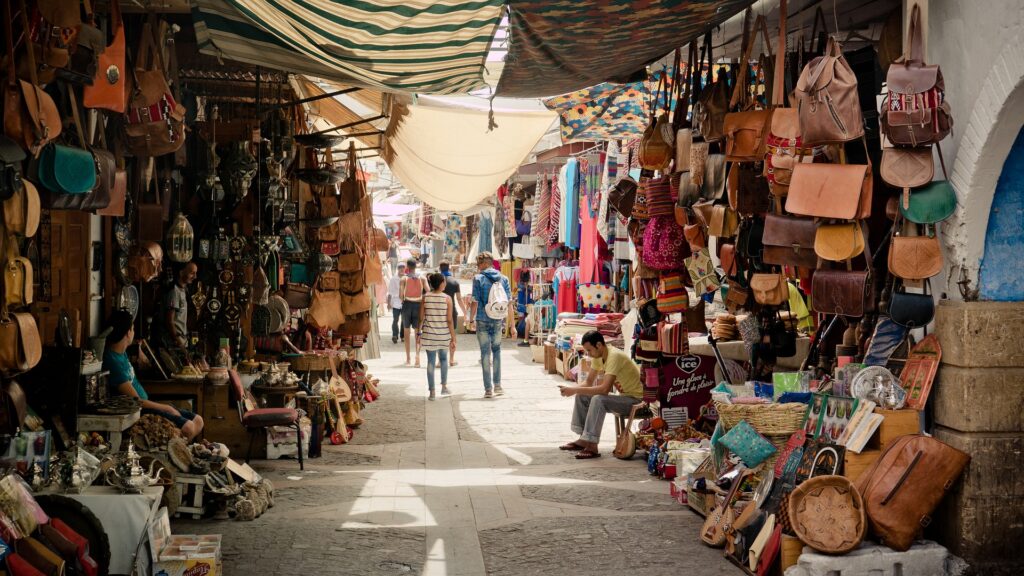 naji1

PubliéMay 15, 2023

Rent car

Tourism

Travel to Morocco
Akhiyat Driver Cars takes you to visit 5 souks in Morocco. A visit to a Moroccan souk is undoubtedly a highlight of any trip to Morocco. The lively atmosphere, the bright colors, the enticing smells and the pleasure of haggling make a visit to a souk an unforgettable experience. Originally, the souk was simply a Moroccan market where people could find all the products they needed for daily life, whether it was food, clothing or even handicrafts. Today, the souk is more like a "bazaar", a huge market where you can find everything. Akhiyat Driver Cars takes you to visit the different traditional Moroccan markets.
Souk Al Had, the biggest souk in Morocco
In contrast to the many souks in Morocco, Souk El Had is a sizable souk with over 6,000 booths and is surprisingly simple to navigate. You can enter the souk through one of its 12 gates. It's clear numbering makes it easy to find a meeting point and orient yourself. Since the stalls are arranged in a somewhat orderly method, if you have specific things in mind, you can go straight to a specific entrance.
Souk Zrabi, one of the beautiful souks in Morocco
Marrakech is undoubtedly the most touristy capital of Morocco and the souks are very popular with locals and tourists alike. There are souks in the medina (city center) for over 800 years. This market is ideal for Moroccan carpet lovers. You will find all colors and patterns, made in the typical Moroccan style. Every day from 4 pm, you also have the possibility to participate (or simply to attend) public auctions. The souk can be a labyrinth of alleys and it is easy to get lost. Fortunately, many signs indicate how to get to the Jemâa El-Fna square. Do not hesitate to ask for directions, people are very friendly.
Souk Attarine, another gem to visit in Morocco
Spice market ideal for food lovers, especially those who like to experiment with traditional flavors. The Moroccan souk Attarine is a must-see when visiting Marrakech. Here you can admire numerous stalls offering dozens of local herbs and savor their tantalizing scents. Due to their high phenolic component content, spices and herbs including cinnamon, cloves, sage, rosemary, and oregano make great sources of antioxidants. There is proof that regularly eating spicy meals reduces your risk of dying from ischemic heart and respiratory diseases as well as cancer.
Souk of the Habous district
Located near the Royal Palace, the Habous district consists of a series of alleys whose architecture is an amazing mix of Andalusian, French and Moroccan influences. Tourists love the souk for its peaceful character, conducive to walking. One finds there local craft industry, spices, clothing, babouches and a large market with olives. Additionally, there is the Bennis pastry shop, which was established in 1930 and is well known for the excellence of its traditional Moroccan sweet and savory goods. We highly recommend stopping by for tea and snacks. You will find many small souks in and around the medina of Casablanca. Souk Derb Ghellef and Souk Derb Omar are among the most famous.
Souk El Henna, a souk worth visiting in Morocco
The oldest souk in Fez, located in the Medina district. Originally intended for the henna market, it has been enriched over the years with cosmetic products and many other businesses. You will find a variety of products typical of Moroccan souks such as leather, oils, spices, perfumes, clothes, fabrics, jewelry and food. Souk El-Henna is a network of intertwined alleys. Entry and exit are through the Bab Boujeloud gate. Take a few hours to visit everything, as this souk is very large. There are numerous amazing souks to explore in Fez's winding lanes. Enjoy getting lost in Fez's best souks' infinite maze. Personally, we adore Attarine, R'cif Square, and Souk El-henna.
Book your car now to visit the souks in Morocco
Akhiyat Driver Cars is at your disposal to help you organize your trip to Morocco. We offer several services to make your adventure even more enjoyable and fun. You have a request? Contact us now on :
From Morocco 05 28 21 75 17
From abroad 00 212 5 28 21 75 17
Or send us your mail at the following address
4, Avenue Haj Lahbib, Cité Bahara Les Amicales, Agadir, 80000, MOROCCO.