7 local products you must buy in Marrakech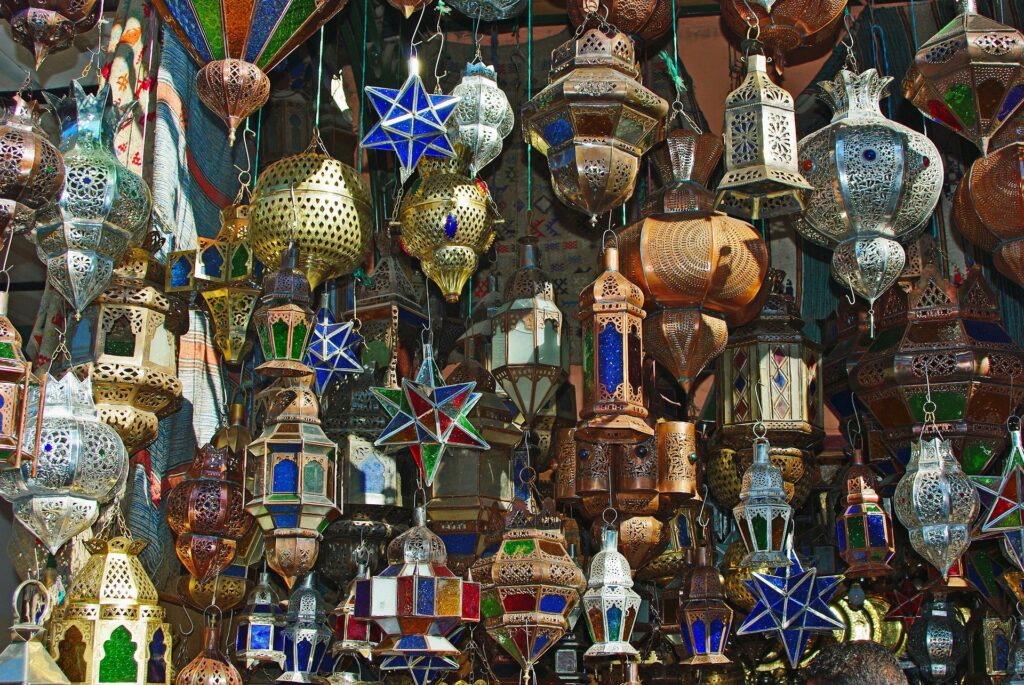 Aissam AKHIYAT

PubliéDecember 1, 2022

Rent car

Tourism

Travel to Morocco
Discover with Akhiyat Driver Cars 7 local products you can buy in Marrakech before going home. At the foot of the Atlas Mountains, Marrakech has been on important trade routes since the 11th century. African merchants traveled from far and wide to sell their wares, which is still the case today.  
Inside the powder pink ramparts of the old medina, you'll find everything. Silk scarves, brass lamps, intricate Berber rugs and brightly colored spice barrels. Once you've made your way through this maze of ochre streets, you'll find the vast Jemaa El Fna square. Livened up by local musicians, snake charmers and acrobats every evening at sunset, this famous and intoxicating square is the perfect place to buy interesting North African flavors and spices or a traditional rug for your living room.
Lanterns, one of the iconic local products to buy in Marrakech:
Vendors of handcrafted Moroccan lanterns and lamps can easily be found among the street stores lining the central square. 
Moroccan lanterns are one of the most aesthetically pleasing decorative pieces to light up any space in your home. Table lamps and elegant glass mosaic lanterns have been staples for the people of Morocco and the Ottoman Empire for centuries. They are a trinket that you will enjoy for years after your trip.
Babouches, the classics:
Traditional Moroccan leather babouches with pointed toes are a great souvenir of your time in Morocco. They have been all the rage for centuries. If you're lucky enough to find an authentic pair, you'll find that babouche vendors use age-old traditional techniques to create these comfortable, colorful babouches.
Thick-soled babouches are available in a variety of colors and styles. Local Marrakchis often wear them in Djemaa El Fna and in the new city. Thin-soled slippers are designed to be worn indoors only.
Spices, one of the most mythical and local products to buy in Marrakech:
During your stay in Marrakech, you will undoubtedly discover an unforgettable array of aromas. These emanate from the souks of Jemaa el Fnaa square or from local restaurants. You will also find them in the lively food stalls of the old medina.
Each spice store and stall makes its own blend. They use only the best spices that are traditionally passed down from father to son. This blend can contain up to 35 different spices. If you are looking for the best quality spices, we recommend you to go to Rahba Kedima. You can go to the apothecary's place in Marrakech which is surrounded by colorful spice stalls. The Tuareg apothecary is also available for everyday spices and natural remedies at great prices.
Olives:
There is no shortage of good fresh olives sold throughout the medina. The rich valleys outside the city of Marrakech are famous for their fine olives and high quality oil. When the harvest takes place during the months of November and December, you will find the juiciest olives in the souks.
At the Jemaa el Fna market, on the east side of the square, there are seemingly endless quantities of green olives, ripe black olives (which are the city's specialty). You'll find pink olives and even olives marinated in harissa. Mix them with local pickles and preserved lemons for a great snack in the hot summers.
Teapots:
A good Moroccan teapot is heat resistant. If you are considering buying a teapot in the bustling medina of Marrakech, you need to make sure that it can withstand very high temperatures. Some teapots are purely decorative objects. We recommend that you avoid ceramic or clay teapots, as they may crack under prolonged heat. If you want to prepare an authentic Moroccan tea for your guests at home, why not complete the picture by purchasing Moroccan tea glasses. Available in all colors and intricate patterns, locals love to mix different colors of glass. This would be a great addition to your dining room at home!
Rugs, one of the top local products to buy in Marrakech:
The city of Marrakech has a large market for the sale of rugs. Carpets are either made in the surrounding areas or transported from southern Morocco. From beautiful handmade Berber rugs to flat-woven kilims and hand-knotted carpets, the amazing variety of rugs in Marrakech will make you feel like you've entered a scene from Aladdin. It should be noted, however, that quality, design and price vary greatly in the souks.
If you're looking to browse carpets, we recommend heading to Ben Rahal, where you'll find two floors stacked to the ceiling with carpets in every color imaginable.
Silver trinkets:
Marrakech's glittering silver souks still preserve several hundred years of history. Marrakech remains a great place to find quality silverware near the Jewish Quarter or behind the famous Argana restaurant. The Berbers of the High Atlas Mountains make the most striking silver. The Tuaregs, a tribe of desert nomads, are also renowned for this quality.
Once you've passed the stalls selling incense, crystallized perfume and fresh Moroccan mint, you'll discover that "the Mellah," Marrakech's old Jewish quarter, is home to a myriad of beautiful antique stores selling genuine silver jewelry, many with Jewish engravings. 
Planning a trip to Marrakech?
Akhiyat Driver Cars will accompany you throughout your trip. We invite you to discover our different services and to contact us for any information request. Call us on :
From Morocco 05 28 21 75 17
From abroad 00 212 5 28 21 75 17
Or send us your mail at the following address
4, Avenue Haj Lahbib, Cité Bahara Les Amicales, Agadir, 80000, MOROCCO.