Top 6 of the beautiful beaches in Morocco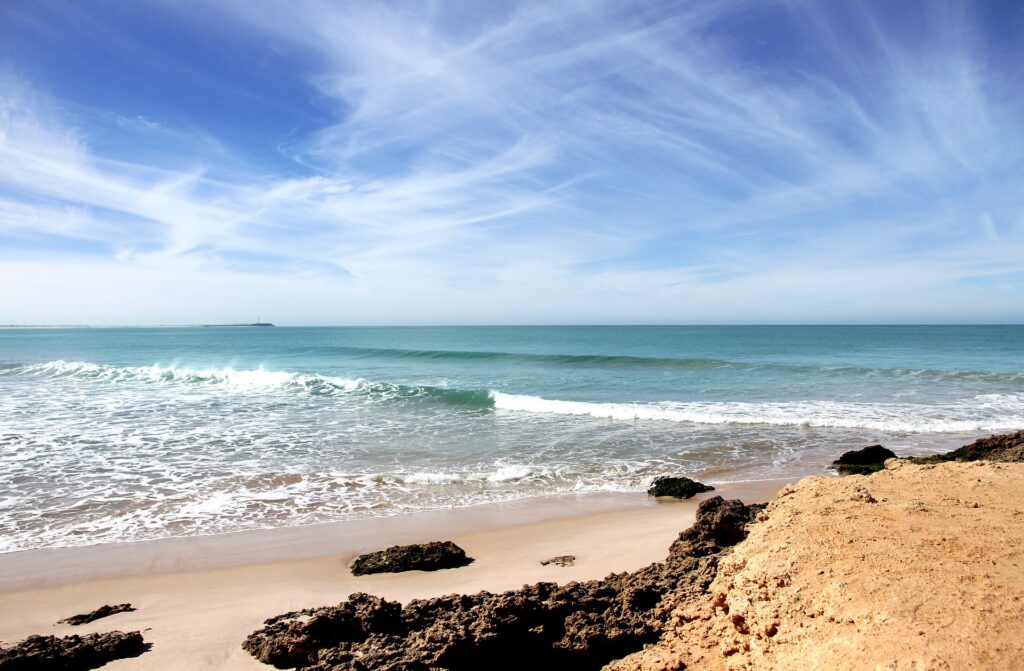 naji1

PubliéAugust 1, 2022

Rent car

Tourism

Travel to Morocco
This summer discover the top 6 most beautiful beaches in Morocco with Akhiyat Driver Cars. Just a short distance from Europe, Morocco and its various seaside resorts attract many tourists for a simple summer getaway in the sun and sand, but for many other travelers, Moroccan beaches are above all surfing places.
1. The beach of Sidi M'Bark
Sidi M'Bark is one of the most beautiful beaches in Morocco because it is quiet and unspoiled, with fantastic dunes and caves. It is located 15 minutes from Sidi Kaoki (which is very busy in summer). At Sidi M'Bark, local fishermen haul in their nets and the waterfalls are only a short walk or camel ride away: a true paradise.
Make your way from Agadir or Essaouira to enjoy this extraordinary beach. It is ideal for swimming and surfing.
2. Dakhla Beach
Dakhla is a city of 100,000 inhabitants located on a narrow 50 km long peninsula on the Atlantic coast. On one side you'll find a flat water lagoon and on the other, world-class waves.
Rent your car in Marrakech or Agadir to make the most of the stunning scenery en route to Dakhla.
It's a great spot for swimming, of course, on the lagoon side, but it's also a mecca for kite surfers.
3. The beach of Imsouane
This long sandy beach, located 82 km north of Agadir, is a surfer's paradise. It is also one of the most beautiful beaches in Morocco. Forbes ranked it among the 27 most beautiful beaches in the world. Bolthole ideal for epic surfing, is trill a fantastic village. With everything within walking distance, a handful of restaurants and local stores, you get to know the community pretty quickly. To get there, rent your car in Agadir and drive to Imsouane. If you swim in this beach, watch out for currents, and if you surf, enjoy it as it is the longest beach in Morocco.
4. Taghazout, one of the most beautiful beaches in Morocco
A half-hour drive north of Agadir, you'll find this pretty fishing village with a laid-back atmosphere. There are many small cafes and restaurants, lots of yoga classes and some great surfing beaches: Killer Point, La Source and Anchor Point, all of which are excellent for learning to surf as they have moderate and consistent waves.
Rent your car from Agadir airport, which has excellent connections to this small paradisiac village.
It is possible to swim safely in Taghazout, but the main attraction is surfing. The Source has golden sands and waves suitable for beginners, while Devil's Rock is for intermediates.
5. The lagoon of Oualidia
Located between Casablanca and Essaouira, Oualidia has an 11 km long lagoon. The tide causes the sandbanks to change throughout the day. It is an incredibly beautiful place, full of wonderful wildlife, including migratory birds such as pink flamingos. The oysters are incredible and there is an excellent surf school to get you out of the water.
Oualidia is about a three hour drive northwest of Marrakech (via Safi). It is safe to swim in and out of the lagoon and is a great place to learn to surf, as the waves (and currents) are not very strong here.
6. The beach of Sidi Kaouki
You'd think you'd just arrived in Hawaii or some remote topical island, with Sidi Kaoki's rustic little cafes, quirky surf stores and cute surfers. Essaouira, a 30-minute drive north, was one of Jimi Hendrix's favorite places in Morocco, inspiring his song Castles Made of Sand. There is a café dedicated to him in Sidi Kaoki.
To get there, just rent your car in Agadir or Marrakech and drive to discover wonderful landscapes. This beach is an excellent spot for surfing.
Schedule your entire trip with Akhiyat Driver Cars:
We will be happy to offer you a customized service that will meet your exact needs. You can pick up your vehicle in town or at the airport while opting for a short or long term rental. We invite you to contact us for more information or to assist you in planning your trip.
Contact us by phone on :
From Morocco 05 28 21 75 17
From abroad 00 212 5 28 21 75 17
Or send us your mail at the following address
4, Avenue Haj Lahbib, Cité Bahara Les Amicales,
Agadir, 80000, MOROCCO.