Top 10 best restaurants in Marrakech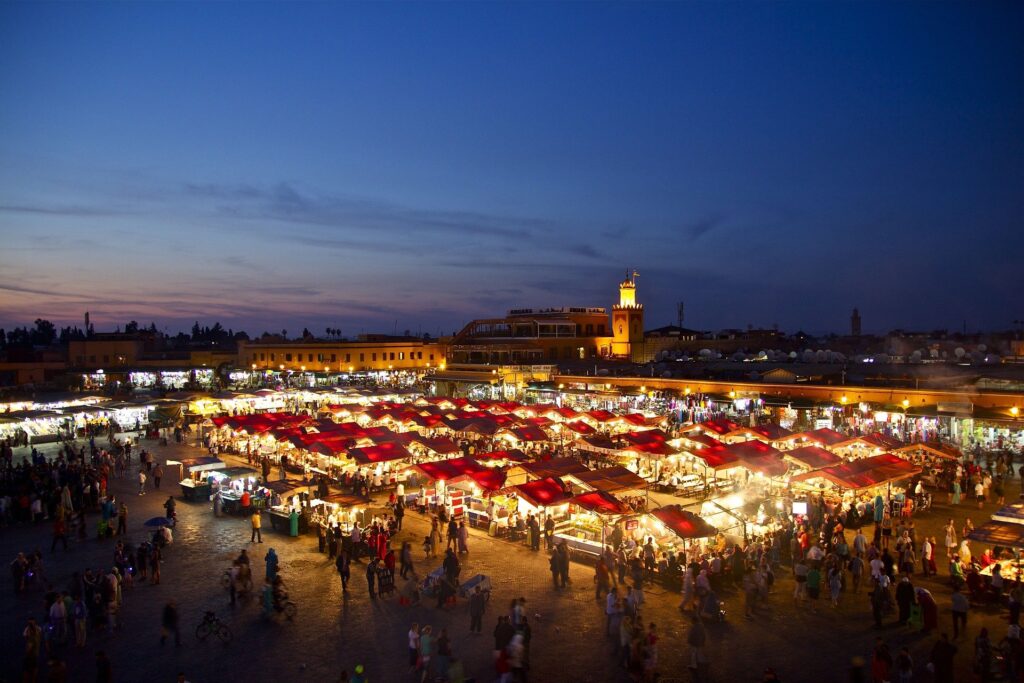 Aissam AKHIYAT

PubliéSeptember 1, 2022

Tourism
Discover with Akhiyat Driver Cars the best restaurants in Marrakech, the city of flavors. Eating well and often is part of the rhythm of life here. Visitors to Marrakech will find themselves swept away by a wide choice of tasty meals. Lovers of street food will find much to be excited about. They will find food stalls available on every corner. From sweet doughnuts to stewed snails, if you're hungry in Marrakech, you're in for a treat.
+61, at the top of our ranking of the best restaurants in Marrakech
The restaurant +61 is the most fashionable place in Gueliz at the moment. Chefs use ingredients from the organic market down the street. The result is simple but striking and very appetizing. Don't miss the homemade ricotta with roasted red peppers, the spinach and wild herb pie or the fish of the day with celery root and artichokes.
Price: medium
Le Trou au Mur
The menu at James Wix's retro Moroccan restaurant is inspired directly by grandma's cookbook. Enjoy traditional specialties such as berkoukesh (handmade pasta with a tomato and herb sauce), tride (shredded pancakes with lentils, chicken and saffron) and tihane (giblets stuffed with spicy kefta, olives and lemons). The contemporary orientalist decor and the fabulous cocktails that can be enjoyed on the terrace are wonderful.
Price: high
Nomad, a typical place and one of the best restaurants in Marrakech
Probably the most lively restaurant in the medina. Nomad's rooftop terrace is constantly in demand, so be sure to book your table as soon as possible. The décor is playful and elegant, with woolen cushions and colorful rugs. It reminds us that the building used to be a carpet store. The menu has a Mediterranean and Moroccan feel, including cumin-coated squid from Agadir, organic chicken marinated in sweet harissa and a crisp cauliflower and fennel salad.
Price: medium
Amal Centre
Probably the best home-cooked meal you can eat in Marrakech is served at Amal Centre. This is a social cooperative that supports and trains disadvantaged women. The food includes unusual salads with lentils, cauliflower and leeks, a really excellent fish tagine and traditional Friday couscous. Prices are low, and often the dining room contains a happy mix of locals and savvy travelers.
Price: affordable
Naranj
This chic Lebanese restaurant, dressed in khmisates (hand-shaped amulets), striped textiles and hand-carved lanterns, is reminiscent of downtown Beirut. Its owners, Lebanese immigrants, have the ambition to present the best of Lebanese cuisine. The kibbeh and chicken salad are excellent, as is the fatet batinjan (eggplant covered with spicy hash, yogurt and pita chips). A selection of salads makes this a good option for vegetarians. Portions are large, so consider sharing.
Price: medium
The Pavilion at La Mamounia
If you want a taste of Marrakchi glitterati, book the lunch buffet or Sunday brunch at La Mamounia's poolside restaurant, The Pavilion. Here, the city's bigwigs gather and fan themselves under parasols while others frolic in the pool. At 1,200 MAD, it's far from cheap, but the all-you-can-eat buffet includes an endless array of salads, tagines, seafood, roasted meats, dips, crudités, savory and sweet pastries, ice creams, fruits and desserts. Dress smart and casual, or you may be turned away at the door.
Price: high
Le Petit Cornichon
This chic French bistro is on a quiet street in Gueliz, the "new town" built by the French in the 1920s. Le Petit Cornichon serves a reasonably priced three-course menu for lunch, featuring seasonal dishes, while for dinner there's an a la carte menu of French classics, such as steak with Bearnaise sauce, filet of sea bream in beurre blanc with zucchini and rack of lamb with green beans.
Price: high
Dar Yacout, one of the beautiful restaurants in Marrakech
This fabulous traditional restaurant is housed in a beautifully decorated riad in the north of the medina. It was one of the first restaurants in the area to offer several dishes of Moroccan gastronomy for a fixed price. 20 years later, this restaurant has lost none of its luster. Enjoy an aperitif on the panoramic rooftop terrace, then settle in for a meal that will blow your mind in one of the sumptuously decorated lounges.
Price: high
La Famille, one of the best restaurants in Marrakech
This restaurant serves an exceptional vegetarian menu in a shady garden in the medina. Sit at one of the lemon wood tables under the fronds of a banana tree and contemplate the dips, salads, flatbreads and quiches of the day. Every meal here is fresh and light. Savor their couscous served with sweet onions, mint, almonds and dried figs. Homemade desserts are also delicious. They usually include a seasonal fruit pie. Instead of alcohol, fresh fruit juices and herb-infused water are served.
Price: affordable
The Jemaa el-Fna stalls, a place not to be missed
Arguably the city's largest, loudest and most popular restaurant, this epic open-air barbecue takes place every evening on the Jemaa el-Fna. Starting around 5 p.m., a hundred or so exhibitors set up shop and prepare a gooey meat feast of kebabs, tagines, mutton brains and spit hearts. Stand 34 specializes in spicy merguez sausages, while stand 31 prepares an excellent fried potato cake.
Price: cheap
By the way, do you need a rental car?
Akhiyat Driver Cars is pleased to offer you several cars and services. For any information, we invite you to contact us by phone on
From Morocco 05 28 21 75 17
From abroad 00 212 5 28 21 75 17
Or to send us your mail to the following address
4, Avenue Haj Lahbib, Cité Bahara Les Amicales, Agadir, 80000, MOROCCO.