Our suggestions for activities around Agadir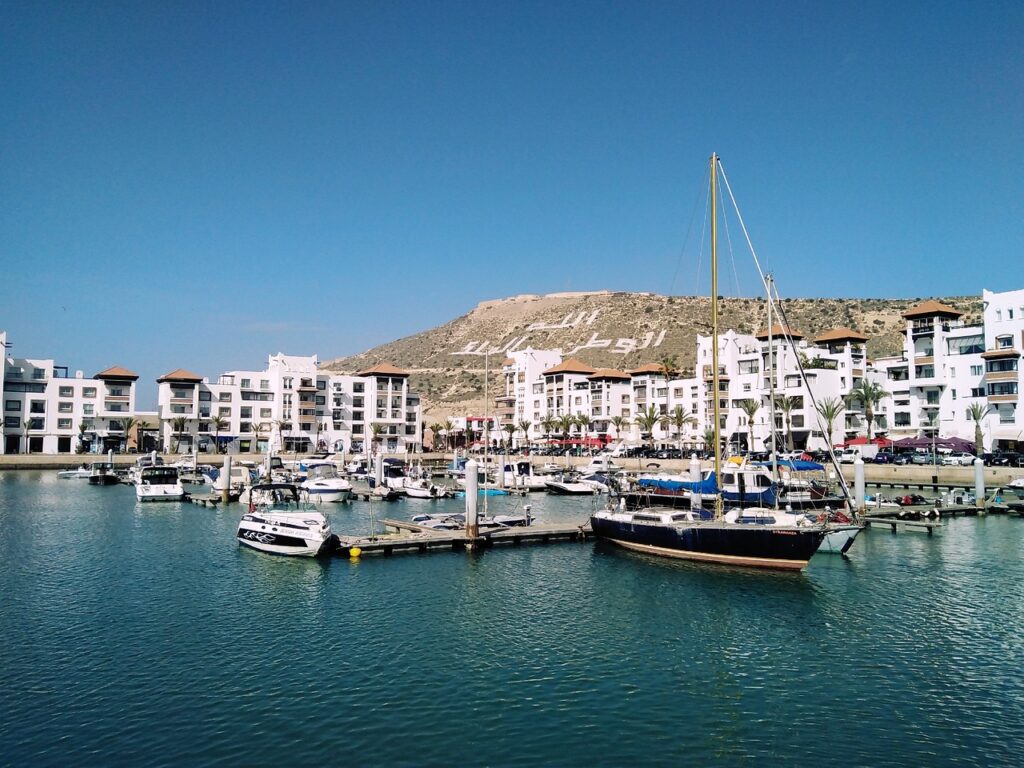 Aissam AKHIYAT

PubliéAugust 15, 2023

Automobile EN

Rent car

Tourism

Travel to Morocco
Would you like to combine sunbathing with other activities around Agadir? The city is a good starting point for day trips. You can also organize longer trips to the Souss Valley and the Anti-Atlas region. Discover with Akhiyat Driver Cars 6 activities to enjoy with family or friends and spend beautiful days.
Day trip to Paradise Valley
Located around 60 kilometers from Agadir, a visit to this beautiful gorge is an ideal tourist activity for discovering the rural life around Agadir. Day hikes on signposted trails pass through almond and olive orchards and small villages. All with a view of the western edge of the Atlas peaks rising in the distance. Locals come here at weekends, often for picnics. For a more leisurely experience, head to the valley during the week.
You can also buy local produce here. Many small stalls in the villages along the way sell local honey and argan oil.
A stroll through Taroudant's fortified medina
Taroudant, 88 kilometers east of Agadir, is one of the main historical centers of the Souss valley. In the 16th century, Taroudant became an important city on the trans-Saharan trade route.
The town is surrounded by gigantic earthen fortifications. These stretch for more than seven kilometers and are pierced by impressive defensive gates. After strolling around on foot or in a horse-drawn carriage, many visitors come to shop in Taroudant's souks. The town is particularly renowned for its silver jewelry. Taroudant's Kasbah district is also well worth a visit, making this walk one of the most typical tourist activities. A short day trip to Taroudant remains a must-do tourist activity around Agadir.
Hot-air balloon flight over the Souss valley
Hot-air ballooning has become more popular in Agadir in recent years. A number of balloon companies now offer visitors the chance to admire the scenery of the Souss valley to the east of Agadir. The views are well worth waking up to. With red-tinged arid plains below, stretching off into the distance to the foothills of the southern High Atlas on one side, and the Atlantic Ocean on the other.
Birdwatching in the Souss-Massa National Park
This national park, located 65 kilometers south of Agadir, is one of the country's leading birdwatching destinations. It offers a wide variety of animals for birdwatchers. The Souss-Massa National Park covers an area of 330 square kilometers. It comprises a combination of sand dunes, beaches and wetlands. Flamingos, ibises, ducks, doves, herons, cormorants and sand grouse are just some of the birds common to the park area and regularly observed. However, most nature lovers come here specifically to try and catch a glimpse of the rare and endangered bald ibis, which is endemic here. We recommend visiting during spring and autumn.

Horseback riding: an ideal tourist activity for couples around Agadir
Horseback riding is one of the best things to do in Agadir. The Association of horse riders of Agadir offers a variety of activities all year round. The association organizes different types of rides, including a tour of the city, an excursion to the beach, a visit to the national park, famous for its migratory birds, and more. Horseback rides are organized in Oued Souss Massa, around six kilometers from the town. During the ride, you can stop off at picturesque Berber villages and ride through breathtaking landscapes, sand dunes and eucalyptus forests, which can be a great photo opportunity.
Souss Park: a tourist activity around Agadir for zip-line enthusiasts
Souss Park is located in the heart of the Bensergao eucalyptus forest, around 30 km south of Agadir. It's a place where visitors can experience the thrill of being suspended between two branches of a tree. This is done using a harness that allows you to move freely around the tree trunk. Many activities are on offer: zip lines, climbing walls, rope bridges, swings and even bungee jumping. The park has three main zones: the first is reserved for children, who can have fun on the swings, slides, climbing walls and more. The second zone is dedicated to adults, who can practice gymnastics, acrobatics, trampolining and more. Finally, the third zone is reserved for professionals, who can practice aerial arts, trapeze, swing, etc.
Book your vehicle and organize your activity in advance:
Akhiyat Drivers Cars offers various services to accompany you throughout your trip. If you would like to discover some of the tourist activities around Agadir, book your vehicle now at :
From Morocco 05 28 21 75 17
From abroad 00 212 5 28 21 75 17
Or write to us at the following address: 4, Avenue Haj Lahbib, Cité Bahara Les Amicales, Agadir, 80000, MOROCCO.