Discover the water parks of Morocco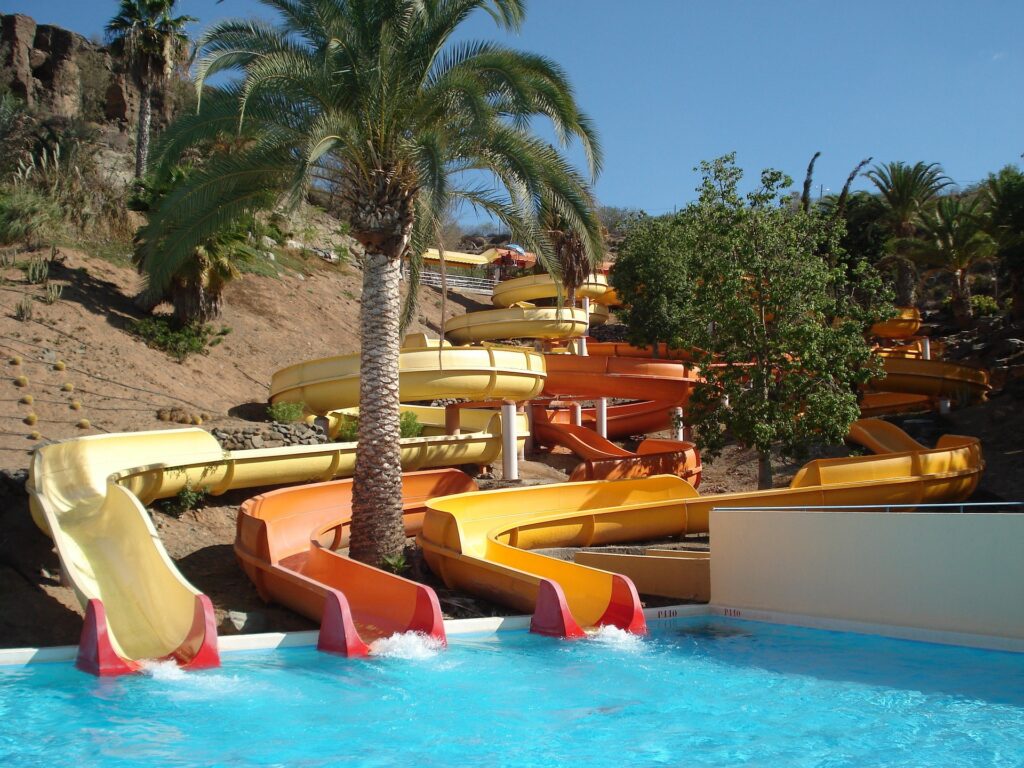 Aissam AKHIYAT

PubliéAugust 15, 2022

Rent car

Tourism

Travel to Morocco
Get ready to soak up the sun and have fun with family and friends, Akhiyat Driver Cars presents the guide to the best water parks in Morocco!
Water parks in Morocco are usually open between April and October or November. We advise you to arrive early, especially if you are in a large group. Most parks open at 10am and get busier as the day goes on.
Finally, the Moroccan sun can be relentless, so don't forget your sunscreen, especially for children. Hats, sunglasses and swimwear are also recommended.
Atlantica Park (Agadir's only water park)
If you're in southern Morocco and spending time at the beach in Agadir, consider spending a day at Atlantica Park, one of the best water parks. There are bigger attractions for older kids as well as a fun setting for your little ones.
Oasiria (one the best water parks of Morocco)
With a design that looks more like a country club than a children's theme park, Oasiria has 10 hectares of beautiful gardens, eight different pools, 20 attractions and several supervised activities for the little ones. The park also has six restaurants and a peaceful setting, which could be just what your family needs.
There's also a quiet (shaded) river and a wave pool for those who don't want too much adventure. The Kids Club is available for children ages 6-12 so parents can have some free time! There is a convenient free shuttle from the main Jemaa El Fna square in Marrakech, also in Gueliz.
Eden Andalou Water Park (Marrakech)
This water park is popular with foreigners who come for a package deal; over 253 large suites in the adjacent hotel, with rooms for parents separated by an alcove leading to the children's rooms. Set amidst a lovely park of flowers, fruit trees and shady palm trees, the park has more than 19 swimming and sliding attractions for all ages.
Labranda Aqua Park (Marrakech)
Enjoy the four pools at Labranda Targa Club Aquaparc, near Marrakech. You'll find a free miniclub for children ages 4 to 12. There are also plenty of outdoor activities during the day. The park offers beach volleyball, water polo, tennis, water aerobics, table tennis, etc.
Aqua Mirage Club (Marrakech)
Aqua Mirage is located about 20 minutes drive from the famous medina of Marrakech, the ancient walled city. With its Arabian-inspired decor and beautiful Moroccan mosaic tiles displayed throughout the complex, Aqua Mirage is a great place to relax for a family vacation. The rides range from easy to exciting, with names like "The Space Bowl" and "The Kamikazi". The Small Cape Snake Dance takes visitors down in a small boat.
There are even water games, small pools and mini-rides for the little ones. Fun and adrenaline for all! And for parents who need a break, there is a Moroccan hammam and a European spa on site for a well-deserved moment of relaxation.
Aqua Fun Club (Marrakech)
If you're looking for an all-inclusive, family-friendly atmosphere, head to the Aqua Fun Park in Marrakech. The park overlooks the famous High Atlas Mountains that loom behind the famous "red city" and has pools and slides for the whole family, as well as entertainment and music in the evening.
Tamaris Aquaparc (Tamaris)
Tamaris Aquaparc is a real fun zone for children of all ages and families. Whirlpools, waves, slides, rapids and more. There is a beautiful, tranquil river called "slow stream", well-maintained attractions and a wave pool. The park's setting is green, lush and shady; perfect for the hot summer sun!
Aqua Pirate (Mehdia)
Open from May to September from 11 am to 6 pm, Aqua Pirate is located on the quiet beach of Mehdia, near Kenitra. The entrance fee is very reasonable and children, from the youngest to the teenagers, will certainly enjoy it! The park is clean and efficiently run, and is an ideal stopover during the hot summer months.
Aqualand (Meknes)
Aqualand is located just off the highway at the entrance to the city of Meknes. This park is ideal for the whole family – bigger slides and attractions for adventure seekers, as well as quieter waters for people looking for tranquility.
Green Diamond (Fez)
Diamant Vert is located about 10 minutes from the city of Fez. This water park overlooks a lush forest and offers several pool options, two restaurants and activities for children. A pleasant respite, perhaps, from the labyrinthine medina of Fez, or ancient walled city-it's the largest in the world! The hotel has bungalows that you can rent if you want to stay overnight.
Mnar Park (Tangier)
This park opened in June 2019 and is located just outside the city. It is a water park and hotel located on the Mediterranean Sea. You can choose to stay overnight or come for the day.
Contact Akhiyat Driver Cars to rent your car:
So what are you waiting for to embark on your next adventure? Contact us now to discover our different services and book your vehicle.
Contact us by phone on :
From Morocco 06 61 37 71 06 
From abroad 00 212 6 61 37 71 06
Or send us your mail to the following address
4, Avenue Haj Lahbib, Cité Bahara Les Amicales, Agadir, 80000, MOROCCO.